POSTPONED - Retail Therapy - Winchester
From March 18, 2020 14:00 until March 18, 2020 16:00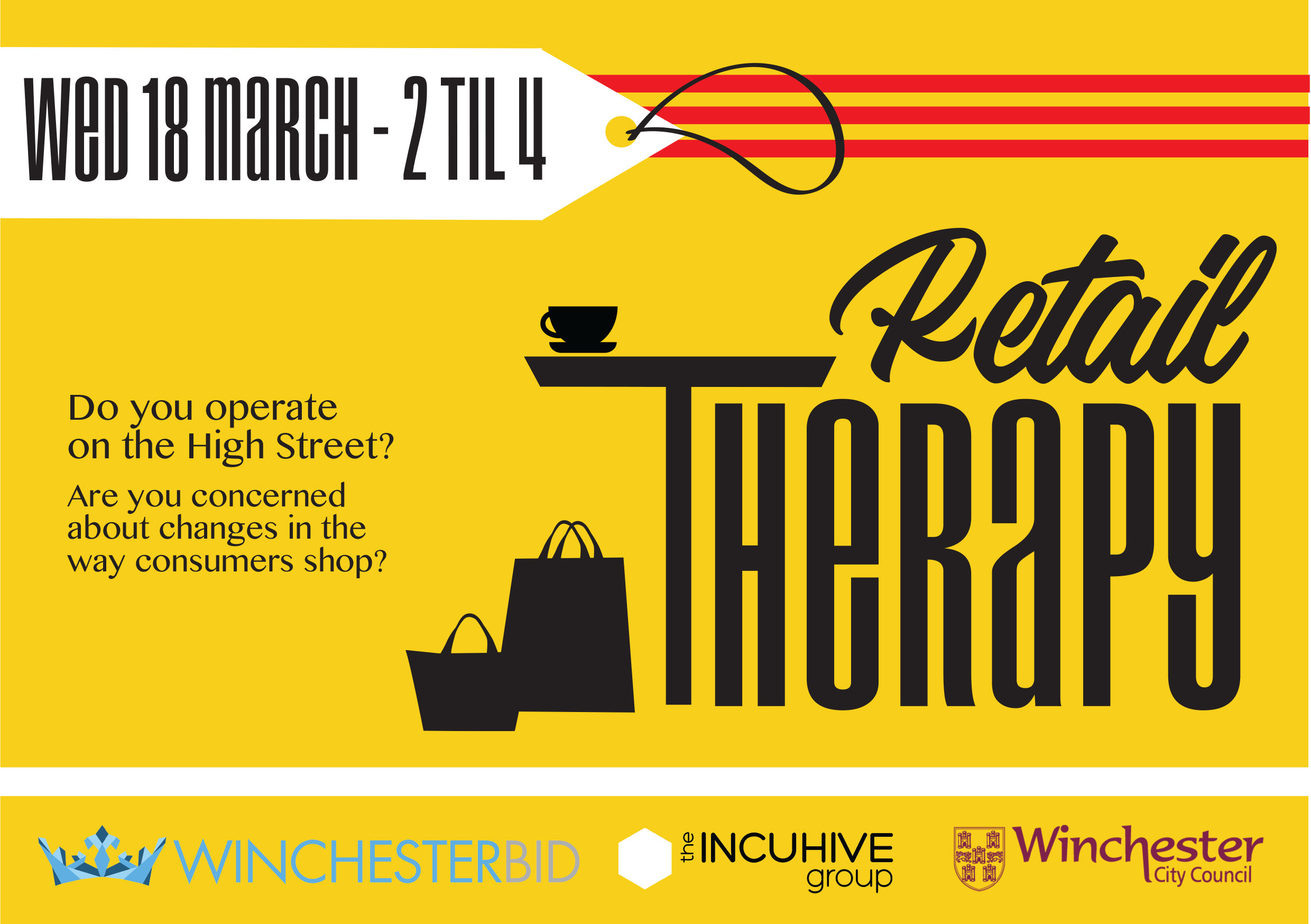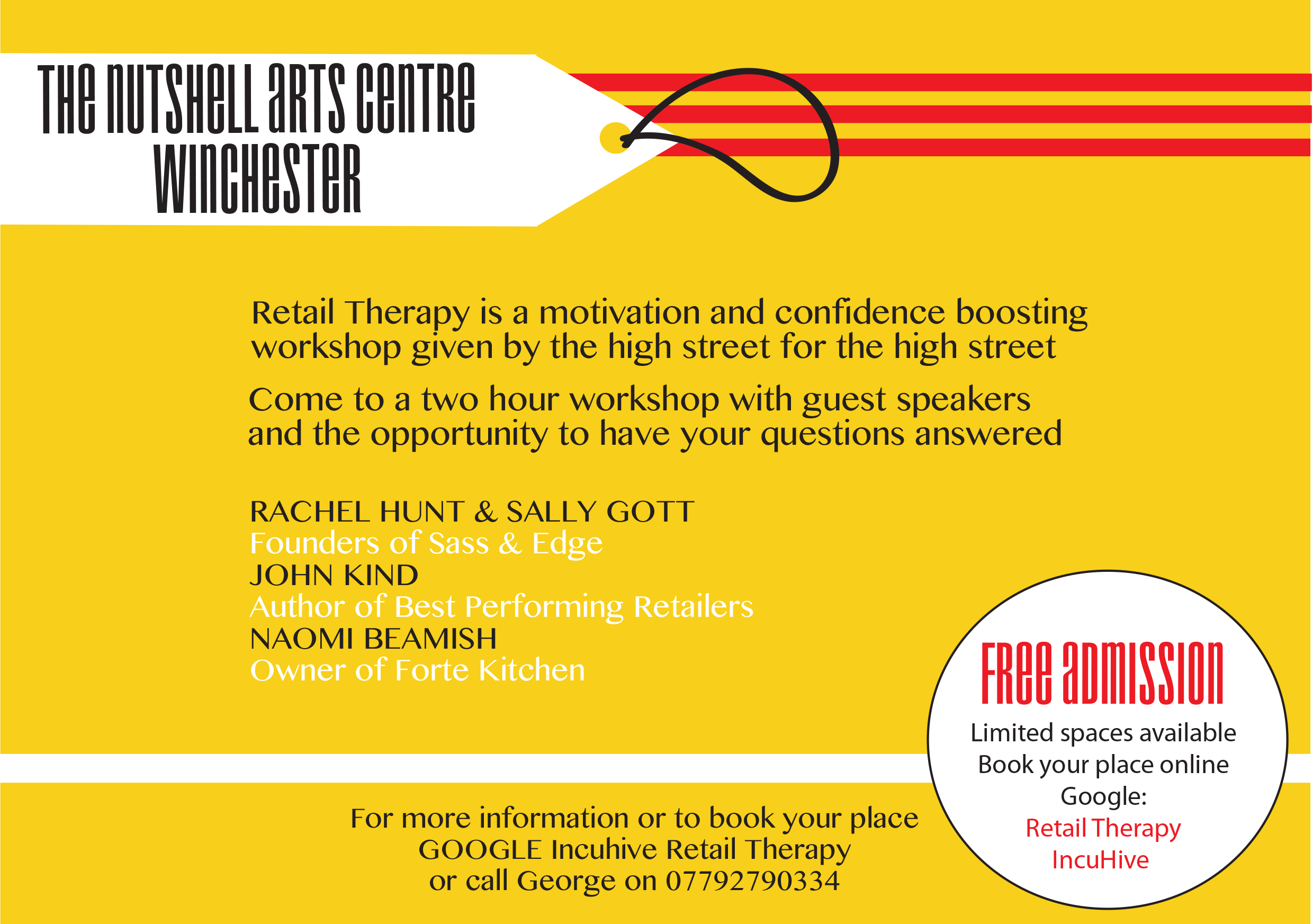 Retail Therapy is a motivation and confidence bosting workshop given by the high street for the high street.
It is an opportunity to share ideas, find solutions and hear from the inspirational wining businesses on Winchester high street and also to ask experts your questions and find out how others might be achieving their retail goals.
The two hour workshop is run by IncuHive in partnership with Winchester City Council and The Winchester BID
Workshop Format
Three Speakers
Four Round Table topics
Panel Discussion with Q and A
Speakers
George has always had an entrepreneurial spirit and a desire to work for himself. He spent nine years in London working in the property industry with the intention of making enough money to go it alone. At 30 he left London and co-founded Kiss Gyms, a low cost award-winning gym chain. Kiss currently has three very profitable sites in Acton, Swindon and Milton Keynes and George sits on the board. With a desire to hedge all that healthiness, George bought and redeveloped a Pub, Restaurant and Hotel once famously owned by Keith Floyd in Totnes, Devon. George has passion for retail in the food and beverage sector and has been involved in several start-ups and recently helped the founders of a new restaurant in Hereford. He can currently be found at Incuhive where he is the Chief Operating Officer.

John has spent his career in business training and coaching – helping senior executives to improve their business and financial skills. He has worked in more than thirty countries worldwide for companies such as Barclays, BP, DHL, Europcar, Hertz, Intercontinental Hotels and Standard Life. For these organisations, he has designed, presented and facilitated numerous training programmes and workshops.

John now works as an Executive Coach advising and supporting Chief Executive to improve their effectiveness and the performance of their companies.

John also works with the Winchester Business Improvement District [BID]. Since 2011, he has published its Quarterly Business 'Barometer' Report which highlights the trading performance and prospects of City Centre businesses especially retailers.

In 2018 and on behalf of the BID, John researched and published his Report, 'What it takes to be a successful retailer in Winchester'.

John was appointed an Honorary Professor at the University of Winchester Business School. Between 2012 – 2014, he was a Visiting Professor at the University of Strathclyde Business School in Glasgow.

A very, very long time ago, John obtained an MBA from the Manchester Business School.

When he is not working, he plays unremarkable golf, supports his grandsons playing football and rugby and enjoys photography.

Naomi Beamish - Forte Kitchen Owner

Naomi has hospitality in her blood starting as a pot-wash at the age of 12 in The Winchester Racquets and Fitness club.

After schooling in Winchester, she funded her Business and Economics degree at Sussex Uni working in a restaurant as a waitress. She fell in love with it and worked her way up to manager. This is where she met her partner and the two of them wanted to go it alone and haven't looked back.

She has owned Forte Kitchen for 5 years and currently lives in Alresford where her third restaurant will be opening in August.

Passionate about customer service and supporting local suppliers has led Forte Kitchen to win many industry awards.

Rachel's retail career started in an independent boutique in Spitalfields. She loves shopping, loves stuff, loves clothes and loves people and is passionate about making people feel better. She has lived in Winchester for 20 years and met Sally through her work at The White Company. Rachel brings real boutique experience to this dynamic duo.
Sally has an amazing retail CV having worked for some of the biggest names on the high street including M and S, Jigsaw and Next. She was born in Romsey and moved back to Hampshire from London 15 years ago. Sally opened the Winchester White company store and managed it for 5 years. When she met Rachel, she didn't have any available jobs but had to employ her so did. She loves clothes, loves buying things and just HAD to own her own shop.