Basingstoke Ad Hoc Work Space
The IncuHive Space, Basingstoke, Hampshire, RG21 7QE
Available To Rent
£ 49/Per Month +VAT
Ad hoc work space at £49 plus VAT per month
Fabulous co-working space with ad hoc workspace. 24 hours access with unlimited usage. Wifi and utilities included. Registered business address and post box. Phone box for private calls and live streaming.
Fed up of working in coffee shops? Come and use our cafe areaa in peace and quiet with like minded people for a very reasonable price
What is near by this IncuHive Space?
Coffee shop:

1 minutes by Walking

Airport:

35 minutes by Driving

Train station:

6 minutes by Walking

Police station:

10 minutes by Driving

Hospital:

10 minutes by Driving

Town center:

1 minutes by Walking
Features
Type of Parking Available: None
General Office Information
Which Floor Is The Office On?: 1
Business Rates: Rates Included
General Amenities
Super Fast Internet
24/7 Site Access
Access to All IncuHive Sites
WiFi Access Included
10/100/1000 Ethernet Port
Discounted Meeting Room Use
Community Amenities
Shared Kitchen Space
Ad-Hoc Working Spaces
On-Site Showers
Bike Storage
Networking Events
Business Mentoring Support
Energy Savings Amenities
Exterior Amenities
Interior Amenities
Security Amenities
CCTV System
Smart Card Door Access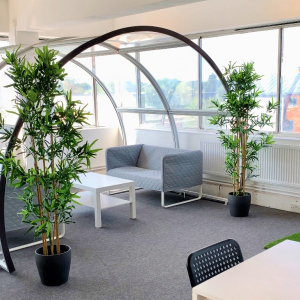 Andover Office Space
Available To Rent
£ 450/Per Month +VAT
The IncuHive Space, Chantry Centre, Andover, Hampshire, SP10 1RL